Chokes & filters
Custom designed and manufactured chokes & filters! Made precisely for your application!
Mains chokes (commutating reactor), common mode chokes, motor chokes and many more..
With our experience and expertise, we are able to design and manufacture custom-made chokes especially for your application. We have already developed various mains chokes or common mode chokes and delivered them to the satisfaction of our customers. We are also specialised in the field of filter applications, for example in the form of sinusoidal filters. The highly complex requirements in throttle and filter design and dimensioning drive us every day and allow us, together with our customers, to achieve great things.
Below you will find a small extract from our program:

Three-phase powder core choke
Type: PKD
Inductance: 3x 0.3mH
Current: 3x 30.0A
Nominal frequency: 500-1800Hz
Pulse frequency <= 16kHz
Duty cycle: S1/100%ED
Application: for filtering or limiting currents

Single phase choke
according to DIN/EN61558-2-20
standing on foot angles
inductance adjustable via additional windings in the range from 46 to 54mH
with additional 9 coil control winding
connection to min. 500mm long H07Z-K strands 6.0mm², for installation
Inductance: 50mH +/-2%
Current: 25.0A
Nominal frequency: 50Hz
Duty cycle: S1/100%ED
Application: in combination with capacitors and rectifiers for pipeline inspection
Three-phase choke
according to DIN/EN61558-2-20
standing on foot angles
connection to touchproof terminals according to DGUV-V3, for installation
Inverter voltage: 3x 280V 3x 400V 3x 400V
Rated inductance: 3x 0.6mH +/-20
Nominal phase current: 3x 127A 3x 108A 3x 78A
Nominal basic frequency: 100Hz 400Hz 163Hz
Nominal switching frequency: 4kHz
Ripple current max (peak to peak): 65A 50A 90A
Duty cycle: S1/100%ED
Ambient temperature: 40°C
Insulation class: F
Copper losses: 282W 205W 117W
Iron losses: 268W 395W 518W
Protection class: IP00
Impregnation: impregnating resin
Dimensions WxDxH approx.: 290x140x320mm
Copper weight: 11.0kg
Total weight approx.: 41.5kg
Application: series reactor for synchronous motors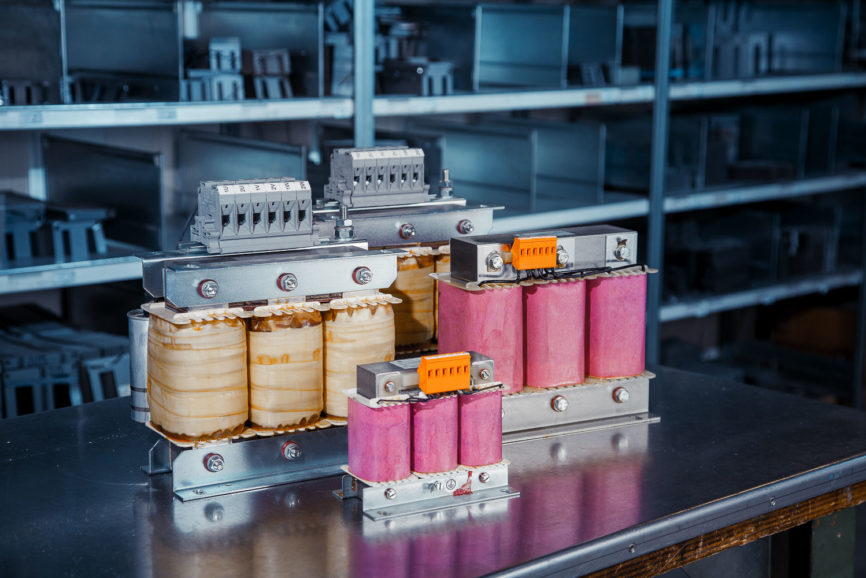 Do you also have a project in which you require support?